Director Guillermo Del Toro's (Hellboy, Hellboy II, The Shape of Water) seminal dark fairy tail, "Pan's Labyrinth", recently turned twelve years old (as of Dec. 29, 2017!). This is last year it will officially be able to get movie theater tickets at a reduced price and free items from the kid's menu. It's all down hill from here, hombre.
Enjoy this sampling of some of the internet's finest "Pan's Labyrinth" fan art. Want to see your art featured on Albotas with a credited linkback? Slip into our DM's on Twitter, Tumblr, Instagram, and Facebook, or just hit up the Albotas Tip Line at tips@albotas.com.
1.) ARTIST: Sam Dunn for 'The Great Guillermo' show at Gallery 71a.
This must've taken HOURS. The detail on this one is super thumbs-up and they get bonus props for working in those little bits of the film's most iconic moments & themes.
2.) ARTIST: Megan Cormack Smith
Heavy storybook vibes on this one. You can also check out a cool little WIP video over on Megan's Behance.
Is it sacrilegious to want to see a Little Golden Book version of "Pan's" minus all the dark stuff with a happier ending? I JUST NEED TO KNOW THAT MY BABY OPHELIA IS OKAY!!!
3.) ARTIST: Scott Balmer for the 'Labyrinths & Monsters' Art Show at Creature Features.
This rad boi is like if Gendy Tartovski and Mike Mignola birthed a creative lovechild. "Pan's Labyrinth" animated short! Someone make that happen!
4.) ARTIST: Luca Qui.
Luca Qui is a digital artist from Rome who, thankfully, refuses to let the Bauhaus movement die. His art is too pure for this world and I'm totally buying his "The Astronaut" print.
This piece is from Qui's "The Fantasy" series which you should totally check out.
5.) ARTIST: Kerfelan Bervolian.
This artist definitely deserves a triple feature for his dope watercolor sketch and clever poster series. The details on those posters are amazing and the concept is brilliant. No wonder it took him between 70-80 hours to complete both!
6.) ARTIST: Cecil Porter.
Hyper-realistic skin art is always impressive. The color and shading on this are incredible. S/o to whoever is walking around with this piece, I'm jelly.
Also, the artists name totally made me think of rapper Cecil Otter from the Minnesota hip hop group Doomtree.
7.) ARTIST: Brigette Nicklas
Ever wonder what the VHS slipcase would look like if "Pan's Labyrinth" came out in the 80's? Wonder no more. Feels like a mix of 90's YA fantasy books with a hint of supernatural horror which, as I describe it, I'm realizing that's the perfect description for this movie.
Is "Pan's Labyrinth" YA? Discuss.
Also, s/o to Brigette Nicklas who probably hates it when people spell her name Bridgette Nicholas. Starbuck's orders must be a constant bummer. I hate to break it to you, but it never gets better.
8.) ARTIST: Yasmin Ali.
Another triple feature! This digital series would look sick hanging in any studio or creative space. Props to the artist for reminding us that the giant toad scene is "a metaphor for socio-economic inequality," among other things.
Let us take a moment of silence to reflect snidely upon those who look down on the artistic values of fantasy. What a bunch of jerkbags, amirite? (jk ya'll. different opinions are actually kinda' dope.)
9.) ARTIST: Simon Caruso.
My art education is failing me and I know this style has a name/period associated with it, but I'm drawing a blank. Anybody wanna help me out? Super slick piece, though – and from a crazy-diverse artist definitely worth checking out (even though his site is in French and Google Translate isn't the best).
10.) ARTIST: Jason Gamber.
It's "Pan's Labyrinth" as a cyberpunk anime a-la "Ghost in the Shell"! Or maybe Transformers? Take your pick! Be sure to check the artist link because the rest of this guy's stuff is DOOOOPE!
OBLIGATORY BONUS: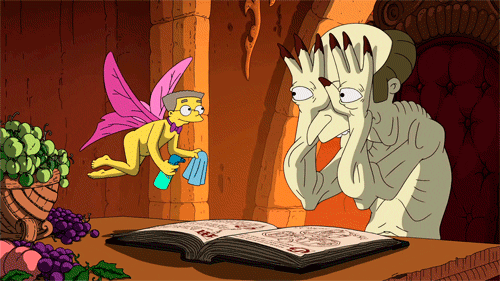 Disclaimer: Clicking on our Amazon links go a long way in supporting this here site! Please make sure your favorite blogs are well-fed so that they can continue growing!